Tinsa IMIE Mercados Locales cuarto trimestre 2015
Precios
El precio medio de la vivienda en España se incrementó un 1% en el último año, impulsado por subidas superiores al 2% en las comunidades autónomas de Cataluña, Madrid y Baleares.
Las provincias catalanas de Girona (+10,7%), Barcelona (+5,8%) y Lleida (+5,3%) fueron, junto a Albacete (4,5%) y Madrid (+3,3%), las que más incrementaron sus precios medios en términos interanuales en el cuarto trimestre, es decir, en el transcurso del año 2015. En el lado de las capita- les, destaca Barcelona, que mantiene la tendencia al alza iniciada en el primer trimestre del año y que ha derivado en un incremento del 8,7% en el conjunto el año. Badajoz (5,7%), Ávila (4,3%) y Madrid (3,8%) son las capitales con mejor evolución interanual de precios en el cuarto trimestre, tras la Ciudad Condal.
Pese a todo, conviene no perder de vista que el mercado es tremendamente heterogéneo y avanza a diferentes velocidades según las zonas. Has- ta 21 provincias y 15 capitales han experimentado incrementos en su precio medio en 2015, pero, al mismo tiempo, todavía se observan caídas superiores al 5% en 9 provincias y 10 capitales cuando se compara el precio medio del periodo octubre-diciembre con el del último trimestre de 2014.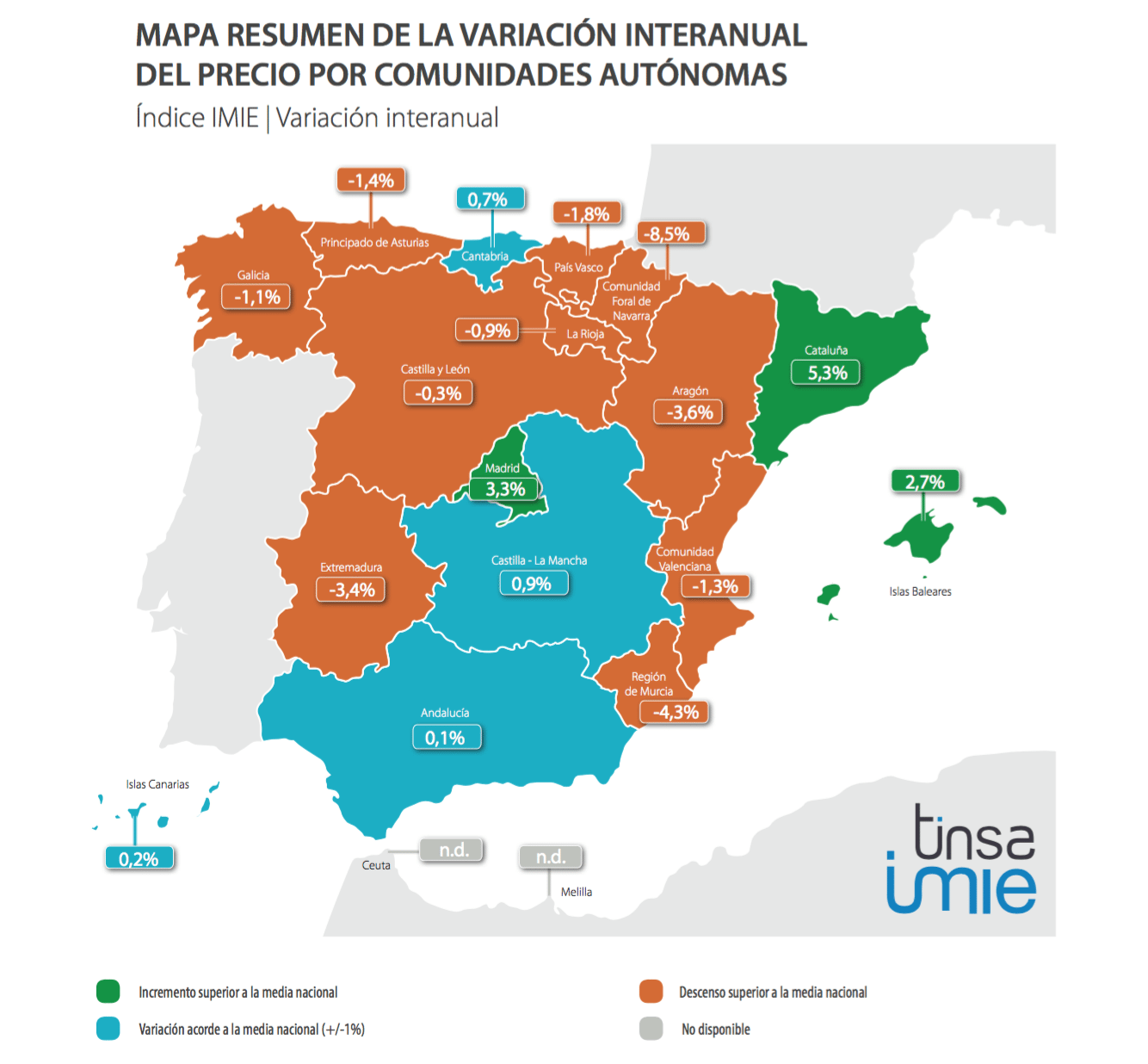 La prudencia aconseja interpretar los incrementos de precios en clave de estabilización. El incipiente cambio de tendencia se apoya sobre valores de mercado en mínimos, con lo que la normalización progresiva del mercado puede traducirse en porcentajes de evolución llamativos al alza, que previsiblemente tenderán a moderarse en los próximos meses.
Tinsa prevé que, si se cumplen las previsiones positivas sobre crecimiento económico y mercado laboral que comparten la mayoría de organismos nacionales e internacionales, la tendencia de estabilización de los precios se consolide a lo largo del próximo año. En los mercados que aún sufren ajustes de precios, estos tenderán a moderarse. En aquellos que están mostrando señales claras de cambio de tendencia, los crecimientos se mantendrán de forma general en niveles inferiores al 5% durante 2016.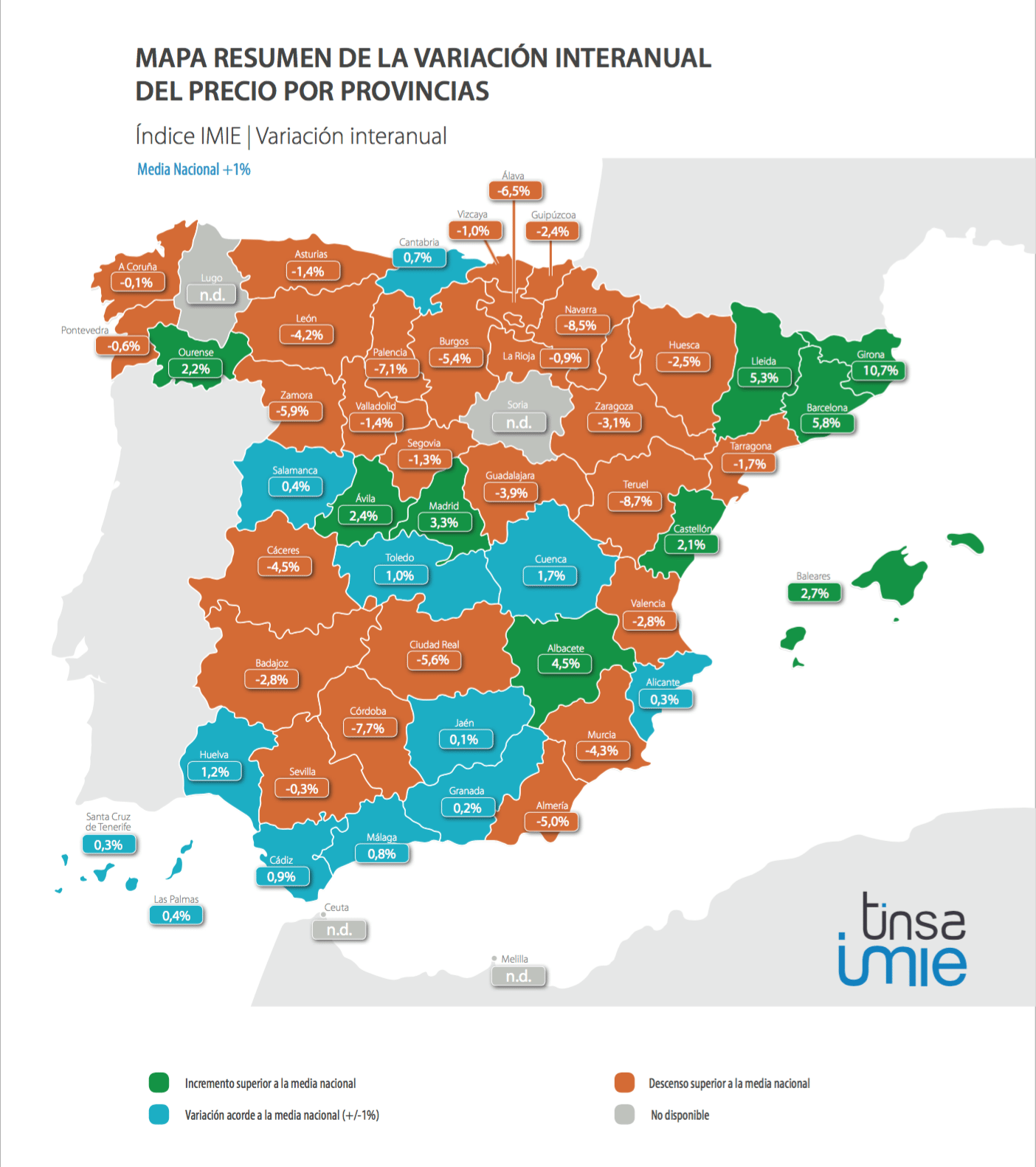 Existen, en cualquier caso, incertidumbres que pueden acabar afectando la evolución previsible del mercado. Entre ellos, destaca el escenario político existente en España, el elevado endeudamiento que siguen arrastrando la Economía y las familias, o hasta qué punto la calidad del nuevo empleo que se está generando permitirá generar una demanda de vivienda solvente, que será el motor del mercado a medida que pierda fuerza la demanda embalsada que está ahora tirando del mercado.
Liquidez
El plazo medio para vender una vivienda en España se sitúa en 10,2 meses, frente a los 10,6 meses de hace seis meses. Cantabria es la provincia donde más tiempo se requiere: 18,6 meses. También muestran plazos de venta signi cativamente superiores a la media nacional las provincias de Álava, Segovia, Ávila, A Coruña, Salamanca y Vizcaya, todas por encima de los 14 meses de media para la venta de viviendas.
En el extremo contrario, las provincias en las que menos se tarda en vender un inmueble son Ceuta (3,7 meses), Melilla (5,3 meses), Soria y Santa Cruz de Tenerife, ambas con un plazo medio de 7 meses.
Descendiendo al análisis de las cinco mayores capitales, Madrid se desmarca como la ciudad más líquida, con un plazo medio de venta de (5,8 meses), seguida de Barcelona (6,1 meses) y Zaragoza (6,5 meses). En Sevilla, el periodo medio de venta para encontrar comprador se eleva a 9,5 meses, mientras que en Valencia supera el año: 13,5 meses.
Valor de la vivienda tipo (más vendida)
A partir de los datos procedentes de nuestras tasaciones, que consideramos trasladables al conjunto del mercado residencial español, la vivienda tipo que se adquiere en España (un 31% del total de las operaciones) se sitúa entre 50.000 y 100.000 euros. Esta es la franja de valor predominante en seis de las ocho provincias en las que este informe profundiza su análisis: Madrid (26%), Valencia (36%), Sevilla (33%), Zaragoza (36%), Málaga (31%) y Canarias (37%).
La excepción son las provincias de Barcelona y Baleares, donde el valor de la vivienda tipo se desplaza hacia la franja superior, entre 100.000 y 150.000 euros. Esta banda de precio representa el 23% de las viviendas adquiridas en la provincia de Barcelona y el 21% en Islas Baleares.
Tasa de esfuerzo
El esfuerzo nanciero para comprar una vivienda se puede medir desde dos puntos de vista: como el número de años de salario necesarios para comprar una vivienda media o como el porcentaje de ingresos brutos familiares que se ha de destinar para pagar el primer año de cuota hipotecaria.
Desde el primer punto de vista, en España se necesitan 5,9 años de sueldo familiar para afrontar la comprar de una vivienda medida, frente a los 8,1 años que se alcanzó en el punto álgido del "boom inmobiliario", gracias al ajuste de precios realizado durante la crisis y el abaratamiento de las condiciones nancieras. Si consideramos el porcentaje de ingresos brutos familiares necesarios para pagar el primer año de hipoteca, la media nacional se sitúa en un 22%, que supone un descenso desde el 33% de los años del "boom".
Málaga destaca como la provincia donde se requiere un mayor esfuerzo nanciero para comprar una vivienda, un 28%. El esfuerzo es semejante en las dos principales provincias del país; en Madrid se destina el 21% y en Barcelona el 22%.
Porcentaje de la vivienda nanciado (Loan to Value)
El porcentaje del precio de la vivienda que está siendo nanciado (LTV) se sitúa de media en el 63,5% en España. Zaragoza es la provincia entre las ocho analizadas donde el préstamo hipotecario cubre una mayor parte del valor de la vivienda: un 72,7%. En el extremo contrario destaca Baleares, con un LTV del 33,6%, que re eja el efecto de un mercado de viviendas de lujo de precios elevados y que se adquieren sin hipoteca o con escasa nanciación. En la provincia de Barcelona, el Loan to Value está próximo a la media nacional, mientras que en la provincia de Madrid se eleva hasta un porcentaje del 70,1%.
---
Subir